Maura loves clothes and clothes shopping and picking out her own outfits to express her individuality. So, you know, normal tweeny girl.
However, because of Maura's super-bendy fingers and motor planning issues, choosing clothes that help boost her independence can get tricky. Anything with buttons or zips or snaps tend not to be chosen, as clothes have to be easy to pull on or off. She also doesn't like anything pressing on her belly, cause sensory issues.
Which is why you find this middle-aged mother wandering the junior sections of different stores, trying to find just the right thing for her girl to wear. This year's style of what I'd consider jogging pants have come in handy – they're cute, elastic waist, come in denim, easy to put on. Regular jeans have been out of the question since we want to grow her independence.
However, last year, her old teacher said something when I mentioned how we were having issues finding pants for Maura. "Have you tried maternity pants?"
No. But then we found the many styles of jogging and yoga pants and Maura was happy.
Meanwhile, in a desperate last minute search for Halloween costume parts, the only white pants we could find for the girl's costume were from the sale rack in Target…and were maternity style. But not old school, giant belly panel maternity. No, this was made to fit more under the belly, with two sides of elastic waist, making them easy to stretch.
Maura walked in wearing them one day, able to put them on herself, and I thought of what her teacher had said.
Yesterday, at Target, I grabbed a couple pairs of means from the maternity section, the ones with the elastic sides. Maura was easily able to slide the pair on herself, and they fit around her tummy comfortably. We paired it off with a new tunic top. And just like that, we're able to do jeans again with Maura, who loves wearing jeans.
So if anyone else is in a similar boat, this might work for you guys as well. And right now, they have a buy one/get one half off sale on all women's jeans at Target, including these.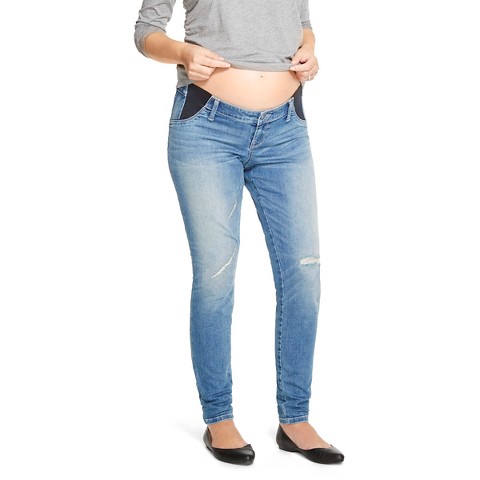 So yeah, as usual, we have to go off the beaten path a little with Maura. But at least in this aspect, the path is still to Target, or as Maura calls it "Store? I LOVE STORE!"
Now to order her more jeans.